Air Pollution
It seems like every day there is something in the news regarding Air Pollution, from affecting our intelligence to particles being detected in mothers' placentas, there is no getting away from it.
The government have published a Clean Air Strategy outlining the plans to reduce roadside nitrogen dioxide concentrators in the UK, in the round the Strategy plans to make our air healthier to breathe.
Protecting ourselves and our children from dirty air should be a priority for most people and a few simple things you can do to help reduce air pollution are to walk and cycle more, avoid buying diesel cars and when you are using your car avoid idling.
For those with lung conditions the effects of high levels of air pollution can cause flare-ups of systems. And research indicates that sustained exposure to air pollution can contribute to the development of lung conditions.
A really useful tool that can be used to check the air quality where your live is the Defra website. If high levels of pollution are forecast, try and avoid walking on busy streets – walk one street back from the main roads and traffic congested areas. Also avoid exercise or do it indoors or earlier in the day before pollution levels increase.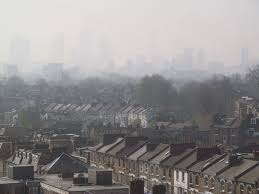 Travel with Oxygen – Travel with ease
Planning is key to ensuring any holiday or trip abroad is a successful and enjoyable experience, for those who require Oxygen there are additional arrangements to make.
If you use oxygen on a regular basis it is more that likely that you will need to take a portable oxygen concentrator with you when you travel. Unfortunately, the Domiciliary Oxygen Contract Providers for the NHS will not allow you to take any Concentrator outside of the UK, therefore you will need to make additional oxygen arrangements for any trips you take abroad.
Here are a few things you will need to consider and organise before you holiday can begin, give yourself as much time as possible to make these arrangements ideally 6 weeks.
·

       

Inform the accommodation provider – Hotel, Apartment, Cruise Ship etc that you will require oxygen equipment on their premises, you will need to have their permission.
·

       

For those of you who are flying you may need a fitness-to-fly test to establish your need for in-flight Oxygen.
·

       

Check the airline policy for flying with Oxygen – only FAA approved portable oxygen concentrators can be taken on to aircraft. The Oxygen Store supply airline approved oxygen concentrators

for short and long-term hire.
·

       

You will need to inform your supplier how long your flight is as all airlines require you have a battery life for a minimum of 150% of your actual flight time.
·

       

Remember international plug adapters
·

       

Take a spare battery pack
·

       

Finally have a fabulous holiday
There are often a number of questions and areas that require clarifying when you travel with oxygen especially if you are flying, to alleviate any concerns or for more information contact us here at The Oxygen Store we are happy to assist with any enquiries. Call 01785 338111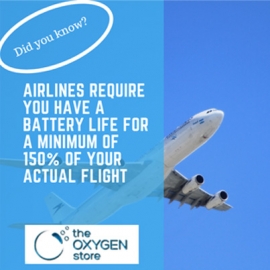 Welcome to our blog.