Marinox Oxygen – Emergency Oxygen Unit
As anyone who Dives will know being prepared for any eventuality is essential. And whilst originally designed by divers for divers Marinox therapy units can now be found in many other arenas where there may be a need for oxygen therapy support.
In the context of diving and as laid out by the HSE, the Marinox Emergency Oxygen Divers Boat Unit is the ideal equipment to have on board your boat to ensure that Oxygen Therapy can be administered when required.
Emergency Oxygen Diving apparatus combines the features of standard "On Demand" Oxygen systems, with a new, innovative method of providing 100% Oxygen resuscitation to a non-breathing diver.
The Marinox unit provides on demand 100% O2 for prompt treatment of decompression sickness & respiratory trauma and is easy to use, having minimal controls that can be used by people with basic first aid training.
In addition, there are options of a waterproof box and carry bag that accept common cylinder sizes.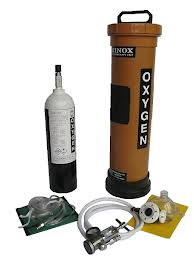 Oxygen Concentrator Servicing and Repairs
Like you would with any other piece of machinery or equipment regular servicing of your oxygen concentrator (as per manufacturers guidelines) will help ensure that your machine remains in good working order.
Servicing of machines entails filter replacements, purity and pressure checks, helping to improve the life of the machine and in addition reduce the likelihood of expensive repairs in the future.  
But do not fear if your machine does require a repair here at The Oxygen Store, we stock a wide variety of Oxygen concentrator spares, accessories and replacement parts for both Static and Portable Oxygen
Concentrators from all major suppliers. We are therefore able to repair most Oxygen Concentrators and offer a repair facility for non-working oxygen concentrators.
We offer a full Oxygen Concentrator servicing and repair package for most brands of Portable and Static Oxygen Concentrators.
*Service includes;
All Filters replaced
Purity check
Pressure check
Simply  select your concentrator make, pay theservice fee, securely pack the concentrator and send it to us.
We recommend that you send the concentrator either recorded delivery or signed for, alternatively use a Courier that will ask us for proof of delivery, we also advise that you insure the concentrator in case of damage during transit, and ideally photograph the concentrator prior to shipping.
* Please note that this is a service only fee, should there be any faults on the concentrator, repair and parts will be charged separately *.
Patient Comfort Items
At The Oxygen Store we supply a wide range of products to help ensure patient comfort.
The Oxyarm and Oxymask range of products provide excellent patient comfort without compromise.
One of our best-selling products is the OxyArm with its unique delivery device allowing minimal contact and no facial contact making it ideal for burns units, trauma centres and homecare. It delivers 24% to 50% oxygen on flows from 1 lpm to 15 lpm. In addition, the OxyArm Plus range is fitted with 3 additional foam pads to the headset to ensure extra patient comfort.
Let's not forget the children, the OxyKid™ is ideal for the little ones. The masks penguin profile is comfortable and fun to wear resulting in better patient compliance and allows for easy access for other therapies, all without interrupting the delivery of oxygen.
OxyKid™ Reduces:
·       The danger of CO2 rebreathing
·       Risk of patient harm because of inappropriate flow settings
·       Aspiration Risks
·       Pressure points/skin irritation breakdown
For more information on our range of Oxyarm and Oxymask products contact us on 01785 338111
The Oxygen Store are Southmedic's Main Distributor for the UK and Ireland for the Oxymask and Oxyarm range of products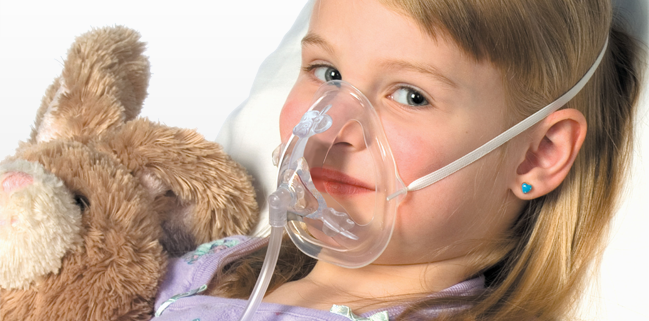 The Benefits of Canned Oxygen
Increased oxygen intake has been reported by health professionals as the natural health and well-being aid that promotes energy, better mental acuity, increased capacity for exercise (and quicker recovery), as well as boosting the immune system.
Pure Oxygen improves wellbeing, giving energy and drive. It's invigorating and adds vitality, improving concentration and helping you to feel better equipped to get through a stressful day and 8 - 10 breaths are enough to feel noticeably better.
Canned Oxygen is now regularly used by those looking to recover more quickly following sports and Amateur and professional athletes wanting to boost performance.
In addition, with the air pollution becoming an ever-increasing problem throughout the UK Oxygen can alleviate and counteract the effects resulting from ambient air pollution and provide replenishment of oxygen levels to the blood and tissues of the body
Our O-2GO and Hi Boost O2 Oxygen cans are filled with 99.5% Pure Oxygen and are manufactured in the UK.
PLEASE NOTE THAT WE ONLY SHIP THIS PRODUCT UK MAINLAND AND IS PROHIBITED FOR AIR TRAVEL DUE TO THE PRODUCT BEING A COMPRESSED GAS
Air Pollution
It seems like every day there is something in the news regarding Air Pollution, from affecting our intelligence to particles being detected in mothers' placentas, there is no getting away from it.
The government have published a Clean Air Strategy outlining the plans to reduce roadside nitrogen dioxide concentrators in the UK, in the round the Strategy plans to make our air healthier to breathe.
Protecting ourselves and our children from dirty air should be a priority for most people and a few simple things you can do to help reduce air pollution are to walk and cycle more, avoid buying diesel cars and when you are using your car avoid idling.
For those with lung conditions the effects of high levels of air pollution can cause flare-ups of symptoms. And research indicates that sustained exposure to air pollution can contribute to the development of lung conditions.
A really useful tool that can be used to check the air quality where your live is the Defra website. If high levels of pollution are forecast, try and avoid walking on busy streets – walk one street back from the main roads and traffic congested areas. Also avoid exercise or do it indoors or earlier in the day before pollution levels increase.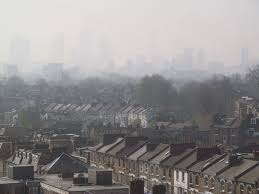 Travel with Oxygen – Travel with ease
Planning is key to ensuring any holiday or trip abroad is a successful and enjoyable experience, for those who require Oxygen there are additional arrangements to make.
If you use oxygen on a regular basis it is more that likely that you will need to take a portable oxygen concentrator with you when you travel. Unfortunately, the Domiciliary Oxygen Contract Providers for the NHS will not allow you to take any Concentrator outside of the UK, therefore you will need to make additional oxygen arrangements for any trips you take abroad.
Here are a few things you will need to consider and organise before you holiday can begin, give yourself as much time as possible to make these arrangements ideally 6 weeks.
·

       

Inform the accommodation provider – Hotel, Apartment, Cruise Ship etc that you will require oxygen equipment on their premises, you will need to have their permission.
·

       

For those of you who are flying you may need a fitness-to-fly test to establish your need for in-flight Oxygen.
·

       

Check the airline policy for flying with Oxygen – only FAA approved portable oxygen concentrators can be taken on to aircraft. The Oxygen Store supply airline approved oxygen concentrators

for short and long-term hire.
·

       

You will need to inform your supplier how long your flight is as all airlines require you have a battery life for a minimum of 150% of your actual flight time.
·

       

Remember international plug adapters
·

       

Take a spare battery pack
·

       

Finally have a fabulous holiday
There are often a number of questions and areas that require clarifying when you travel with oxygen especially if you are flying, to alleviate any concerns or for more information contact us here at The Oxygen Store we are happy to assist with any enquiries. Call 01785 338111